Greg Lock Rips Kenneth Copeland as '#1 Heretic in America' + Preemptively Dissolves Tax-Exempt Status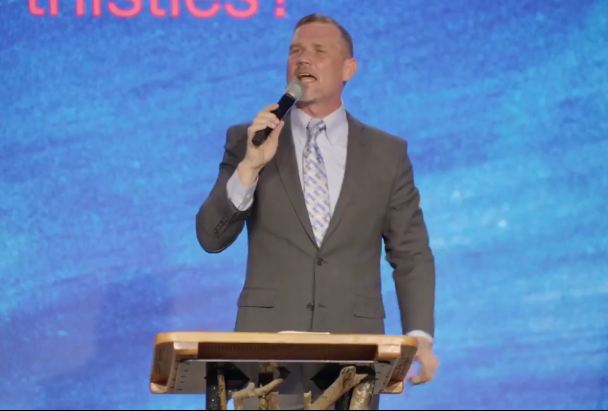 Pastor Greg Locke of Global Vision Bible Church in Mount Juliet used part of his May 22, 2022 service to attack well-known heretic Kenneth Copeland, calling him a false prophet, demon, and a freemason on account of constantly swindling, explaining:
But you know why they (Flashpoint) won't interview me? Because I called out Kenneth Copeland. Kenneth Copeland is a heretic, you hear me? Kenneth Copeland is the number one Christian heretic in America. He wouldn't know a Bible if it bit him in the butt in the middle of the road.

Kenneth Copeland is a demon and he knows it. I don't care how much money he's got, he's got a lot and he got it off of naive Christians that ought have tithed to the local church and quit sending him money. I wouldn't preach for him if he begged me tomorrow on his knees and offered me a million. I am not messing with false prophets.

You know why Kenneth Copeland won't sue me, because he knows I got the receipts. He's a false prophet. Kenneth Copeland should be under the jail. You would be shocked if you knew what's going on behind closed doors at these pastor's offices. By the way, I dare, I dare, I dare, I dare Kenneth Copeland to take me to court and sue me for what I'm about to say. He is a 33rd-degree Mason. He is in the Masonic satanic cult!"
It's not a surprising thing for Locke to get worked up about, given all his antics we've previously covered. Locke made the news last week after expressing his belief that Democrats weren't Christians and not welcome at his church, then followed it up with a promise to really show the world an insurrection.
"If you vote Democrat, I don't even want you around this church. You can get out. You can get out you demon. You can get out you baby butchering election thief. You cannot be a Christian and vote Democrat in this nation. I don't care how mad that makes you. You can get as p***ed off as you want to. You cannot be a Christian and vote Democrat in this nation. They are God-denying demons that butcher babies and hate this nation….

Let me tell you something. You ain't seen an insurrection yet…You keep on pushing our buttons, you low down, sorry compromises. You God-hating communists, you'll find out what an insurrection is because we ain't playing your garbage. We ain't playing your mess. My Bible says that the church of the living God is an institution that the gates of hell shall not prevail against it. And the Bible says they will take it by force."
This led many to call for his 501c3 charitable tax exemption status taken from the church- something he was keen to do- telling his congregation he was initially going to bring the document and burn it in front of them, but did something else instead.
"I got an attorney and I dissolved our stinking 501c3 in this church because the government ain't gonna tell me what I can and what I can't say. So IRS, we don't need your stupid tax exempt status. You can put in a bag and burn it in your front yard for all we care
I renounce 501c3 communism in this church."