Head of ELCA Church Says Overturning Roe w. Wade 'Contradicts Church Teaching'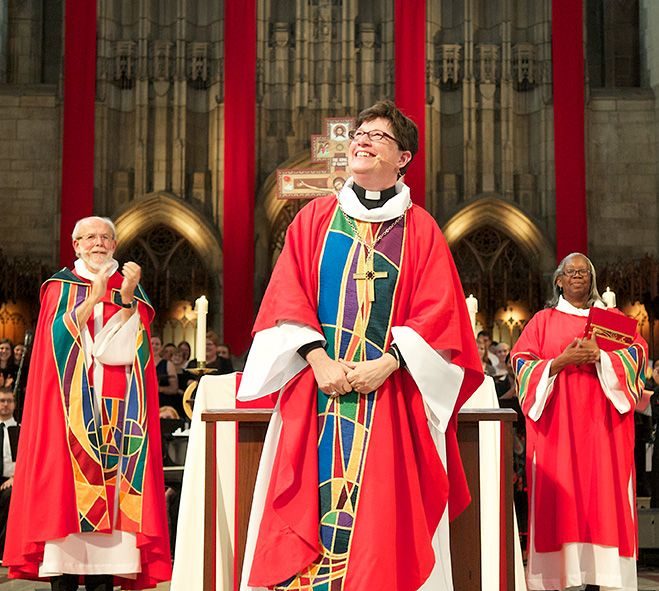 The Evangelical Lutheran Church in America (ELCA) is functionally one of the most heretical and demonic denominations in America. It has denigrated to basically one massive pen for goats, run by spiritual criminals and hirelings, with barely a sheep to be found anywhere. From Planned Parenthood Logo on Clergy Clothes? to Queer ELCA Pastrix Ordained With Drag Queen Nuns While Jennifer Knapp Serenades, this pro-LGBTQIA&$#@!, pro-abortion cauldron of wokeness and deviant perversion runs neck in neck with the PCUSA in a contest to see which denomination hates Jesus more, and they usually come on top.

Now, the ECLA's presiding Bishop and head of the church, (Bistrix? Pastrix?) Elizabeth Eaton issued a press release formally condemning the overturning of Roe v Wade, saying that it contradicts the denomination's teaching that abortion must be legal and accessible.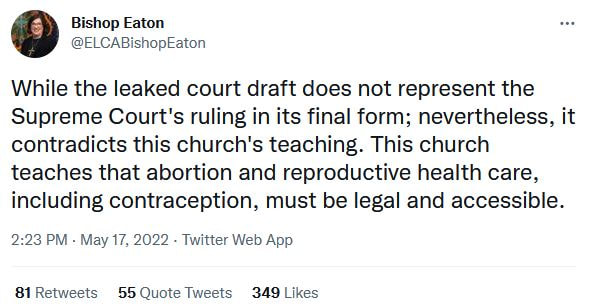 Some other bits of decrepit wickedness:
People who choose to have legal abortions should not be harassed or prevented from accessing abortion due to economic or other factors.

(Overturning Roe v. Wade) has the potential to foster communities of conflict and moral policing rather than complex moral discernment. It will likely endanger or cause the deaths of people who need an abortion. And the legal bases established by any such decision threaten people's access to birth control, same-sex marriage, voting rights and their right to privacy.

Any ruling similar to the leaked draft will upend 50 years of legal precedent in our nation and damage the health and well-being of many. The prospect is daunting. As Christians, we persevere in hope. We must continue to be bold in our prayers and in our public witness for a more just society that cherishes and guarantees the dignity of all. "May the God of hope fill you with all joy and peace in believing, so that you may abound in hope by the power of the Holy Spirit" (Romans 15:13).
---
h/t Exposing the ELCA