Video: 5-Year Old Boy Casts Out Demons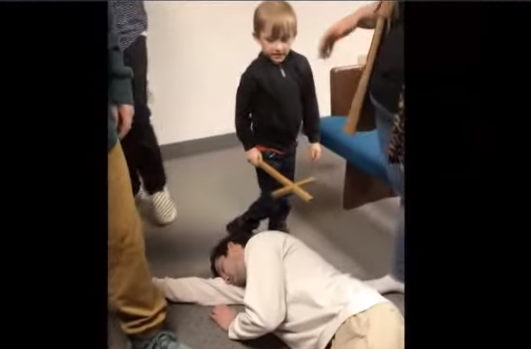 Gird your loins, Peter, Paul and Jesus, you have competition! A new contestant has entered the theological octagon, ready to cast out some demons and send them back to hell whence they came. Protect the pigs! Sound the alarm for the swine. These demons are being cast out right, left, and center, and it's all due to the wonderful, super legitimate deliverance ministry of a…. 5-year-old boy?

Noah Hines, the 'Head Minister of Deliverance' at Expelling Darkness Ministries uploaded a video of his friend's 5-year-old son going to town on an alleged demon-filled woman, marveling at the Holy Spirit moving on the boy, explaining what we're witnessing is basically Psalms 8:2 in action "Out of the mouth of babies and infants, you have established strength because of your foes, to still the enemy and the avenger" and this was the "youngest deliverance minister he's ever seen." The father explains:
He was full of zeal, it amazed me. But this is the crazy part guy, usually he's timid and shy. So God can take a timid and shy person but when you grab the microphone, when you get the anointing on you, when the spirit comes on you there can come a supernatural boldness. (Editor's note. THAT's the crzy part?!) So he just grabbed the microphone he started going off. We were working on a deliverance, and uh yeah, he grabs the microphone and we see somebody who is sitting halfway in the back of the church all of a sudden rush up to the front and get free very quickly.

And this isn't something that he's done for the first time, but he has been doing this little by little throughout the last year. And I'll tell you what, we have not been telling him to do it but he wants to do what his parents are doing."
Someone needs to send that kid over to The Gospel Coalition to clean house.

---
h/t to @ReformedAbacus for that last line. True that my brother!