Megachurch's 'MetaChurch' Announces 6 Virtual Salvations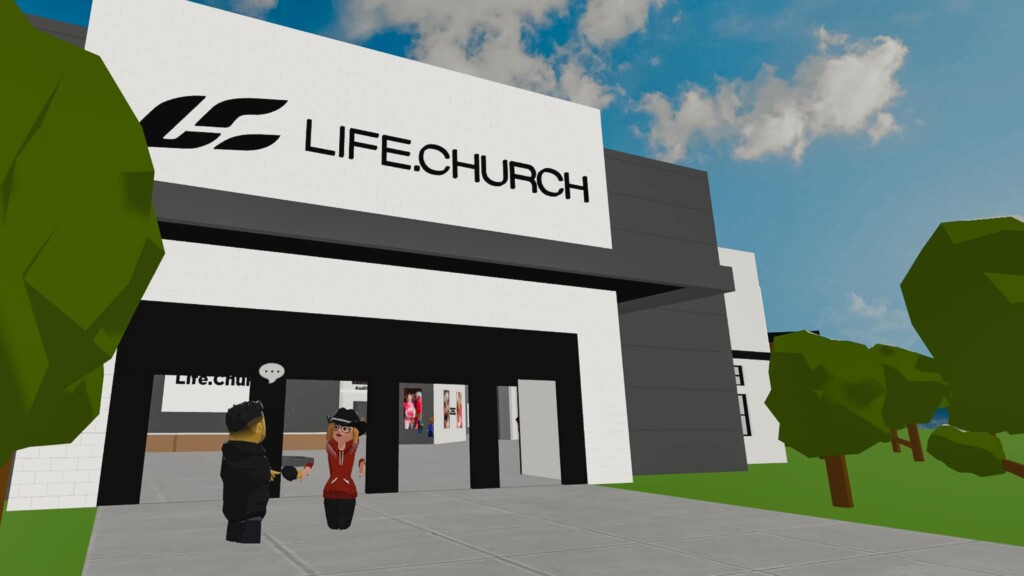 Two months ago we wrote about one of the largest churches in America announcing that they have joined the #Metaverse, digitally recreating their church so that those who wish to attend church services and interact using virtual reality may do so, in a move that has major implications for the future of the church and the use of digital media within the space.
Back in November, Craig Groeschel of Life.Church, (LC) an 85,000 member, seeker-sensitive, multi-site based in Oklahoma that has nearly 40 locations, made the announcement on Facebook, announcing that they had joined the metaverse and that anyone was free to join their space. Unsurprisingly, their pastor and lead visionary is an awful preacher and habitual scripture- twister, making it par for the course that he'd be on board for something like this. While LC is not the first church to join the metaverse, it is by a factor of 1000 the largest and most prominent.
In a nutshell, the Metaverse is an online virtual world that incorporates augmented reality (AR), persistent virtual worlds which exist in real-time even when you're not playing them, videos, the use of Virtual Reality headsets and hardware, 3D holographic avatars, and other means of communication. Though still in its infancy, as it expands and develops, it will begin to offer a hyper-real alternative to the world for people to co-exist in.
This last week, one of the pastors at Life Church, Ryan Sharpe, announced that the metaverse church had grown so large, that they had to create another room, on account of having so many virtual attendees. He also announced that 6 people within the metaverse "made the decision to follow Jesus," likewise pointing to the way it was connecting believers who might otherwise not have attended.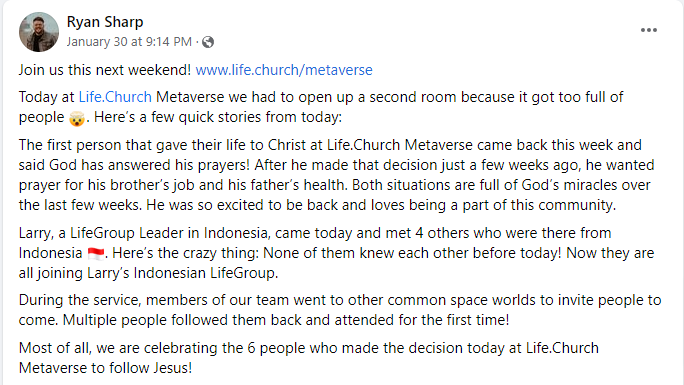 He also posted a few pictures and videos of the service.
Of course, Life.Church simply assumes that this is healthy, and this sort of virtual reality attendance is acceptable to fulfill the requirements of not forsaking the assembly of believers.

As one astute commenter wrote in response to this news:
"I imagine for anyone who is actually saved through this, the very first urging from the Holy Spirit is likely to be "Get out of the Metaverse. Now. And never go back."