Pregnant Pro-Choice Activist Pops Abortion Pill on Live TV to Show 'How Easy it is' to Kill her Baby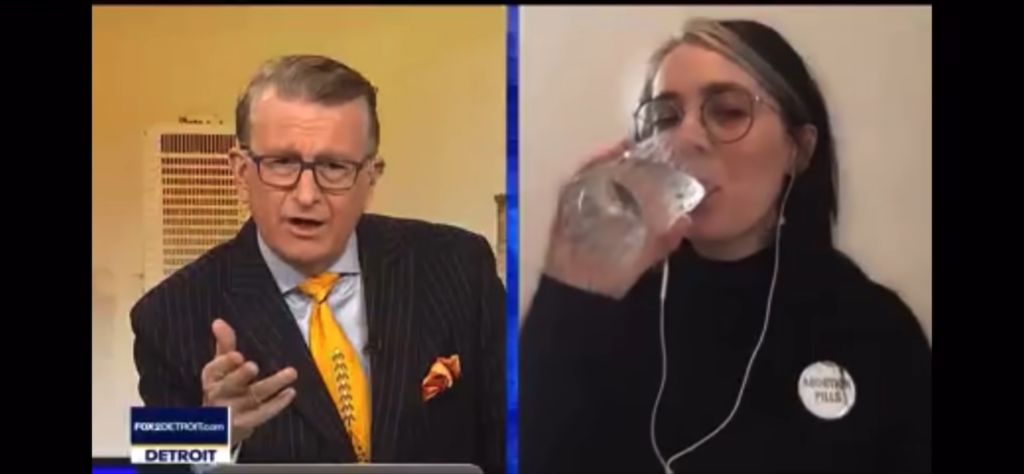 A professing pregnant abortion activist wanting to make it clear that even if Roe v. Wade were abolished by the Supreme Court, getting an abortion would always be a super easy and convenient thing to do, shocked the conscience of many by taking an abortion pill on live TV, in order to drive her gruesome point home.

During a segment on Fox 2 Detroit, the host asked a self-professed "satanist" and pro-baby murder advocate Jex Blackmore (they/them) about the fact that she was promoting abortion pills on her website as a viable alternative to surgical abortions, asking her whether or not they were dangerous to take, and if this was a practical alternative should Roe v. Wade get overturned.

Jex Responds:
"Yes, so they are incredibly safe, safer than Viagra or Tylenol. They've actually been in medical practice since 2000. So if you order it through the mail, there'd be the same thing you would receive if you were to walk into a clinic.

And the change that recently happened is previously, you had to actually physically go to a doctor to receive at least the first of the medication. And now you can get it sent to you through the mail on a sliding scale, and, and it is extremely easy and private and allows you to really self-manage your abortion.

And Charlie, I just really, I want to share with you really quickly, this here is Mifepristone. this is the first of two pills you would take the end of pregnancy. It would induce an abortion, this very pill, by blocking the hormone and allowing a pregnancy to grow. And I want to show you how easy it is and safe it is by taking it myself.
The host, clearly taken aback, asks "you're not pregnant, are you?"
"I would say that this is going to end a pregnancy, which would be my third abortion"
This tragic event begins at 1:20.
This act by Blackmore further serves to demonstrate the lie that all women who get an abortion are victims and are simply being victimized in their naivete, but rather themselves are the victimizers who know full well what they're doing.