An Inside Peek into Bethel's Demonic 'Fountain of Youth Fire Tunnels'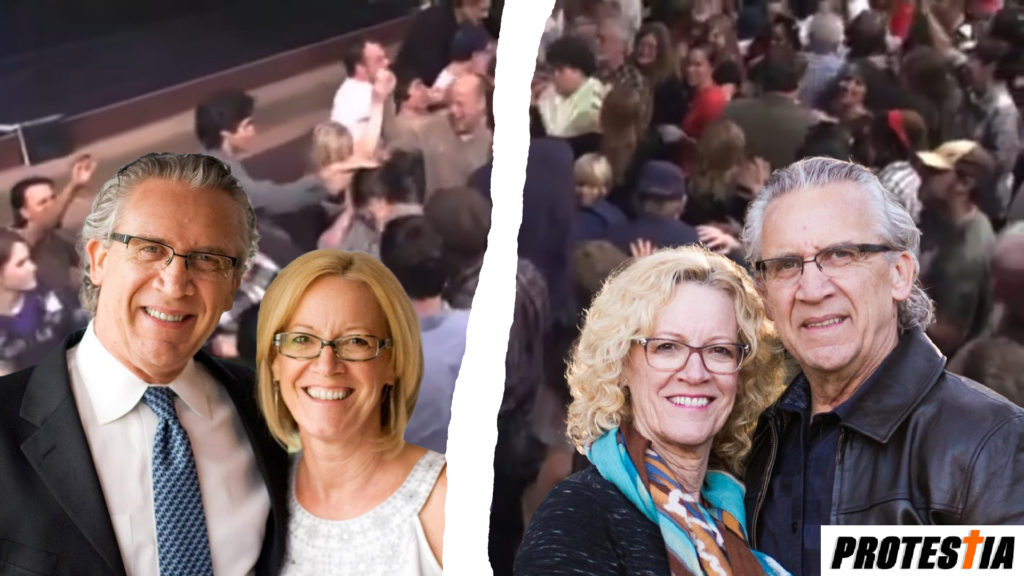 Lest you forget there is a reason why people regard Bethel Chuch as a madhouse populated by a bunch of charismatic loons, a newly unearthed video shows exactly why they rightly arouse suspicion. The video featured ministry partner and long-time friend of Bethel, Georgian Banov, putting on some sort of show where he invites Bethel congregants to travel through a fire tunnel that will regrow hair, make the seasoned citizens of Bethel look more beautiful, and basically function as a fountain of youth.
The basic idea of a fire tunnel has existed in Charismatic lore for just a few decades, with the basic idea is that people form two lines (i.e. a "tunnel") that other members can walk through/ under and receive prayer, laying on of hands, prophecy, "impartation of the spirit" and now youth and beauty back. As the members go through, due to peer pressure, psychosomatic proclivities, and maybe even demons, they frequently have physical manifestations such as appearing drunk, laughing hysterically, falling down, and twitching on the floor like a Taze victim.

During the chaos of the event, Banov tells the audience that they're about to look young and that the lack of aging will be a 'sign and wonder' to all the regions around the church. Naturally, this is a failed prophecy and a really terrible sign and wonder, as the Johnson's have aged tremendously and have more wrinkles than Ed Litton's furrowed brow after realizing he has to preach a sermon not plagiarized by J.D Greear
We agree together and partner together we reach out to all of you that want to partner with us; leaders ministers, the best is yet to come…

I just reverse lord, reverse. How many want to be 10 years younger? How many want you to be 10 years younger? Father I release 'youthfulness' in this body as a sign and a wonder of all of Redding (church) and of all the regions: the people here get younger and younger-looking and younger-looking. At 80, you look and feel and act like 40 but I release that divine youthfulness on your sons and on your daughters.

..Come on all the baby boomers come upfront, all the baby boomers I want you to come. Listen. Young people make room, make a tunnel, make a tunnel for the baby boomers.

Baby boomers, it is your day! You're getting younger! You're looking younger! Life! Life! Life! Younger! Looking Younger!

Lord, we release hair! Hair is beginning to grow supernaturally! Hair is beginning to grow. Whoever needs hair, receive right now. Supernatural! There it is, there it is, there it is, there it is, there it is, there it is! oh!

Wrinkles going away. Beauty, beauty, beauty, beauty beauty beauty, beauty. You're beautiful! You're looking younger, stronger. Weight loss, weight loss, weight loss, weight loss…
Don't forget, this is not fringe Bethel, but mainstream bethel, and these sorts of shenanigans happen all the time.
h/t Salt and Light, who links original source.