Canadians Rally At Prison for Jailed Pastor Tim Stephens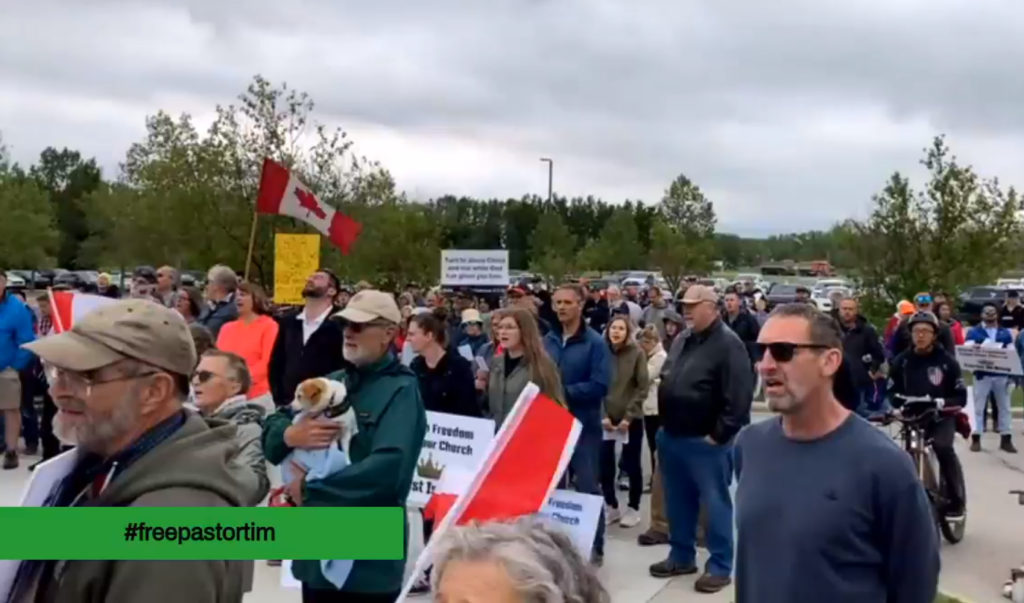 A crowd of over 200 people gathered outside the Calgary Remand Center on Saturday, holding up Canadian flags and "churches are essential" signs, protesting the continued imprisonment of Pastor Tim Stephens. The Fairview Baptist Church pastor was taken into custody a week ago after police helicopters discovered his church service, resulting in him being arrested and booked for defying the government's lockdown order which prohibits churches from gathering at more than 15% capacity.

Earlier in the week, Alberta Premier Jason Kenny announced that the province would be opening up in full on July 1. At that time the province will enter stage 3, whereby almost all COVID-19 public health restrictions will be lifted, including restrictions on churches.

Stephens' trial is set for June 28, a mere 3 days before gathering for full church services becomes legal again.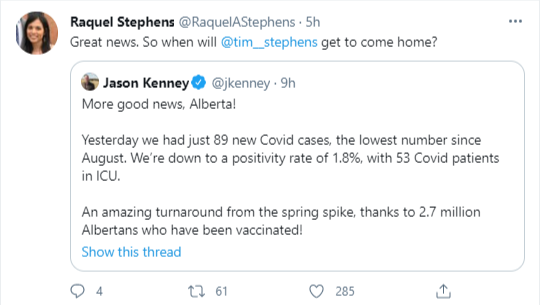 In an interview with Rebel News, the Justice Centre's Litigation Director Jay Cameron says Stephen's arrest is completely illegal and based on a court order that was issued to another business and doesn't even apply to them, accusing the government of targeting pastors and those critical of their pandemic policies.
He's been arrested and what the grounds that these guys are saying is because he was served with the amended order of (Judge) Rook…The important thing…is that that order does not apply to him, that order applies only to the Whistle Stop Cafe and people acting under its instructions or in concert with them. And so Alberta Health Services is deceiving the public and twisting that order in order to arrest people who they say have notice of it…that order cannot be stretched to the general public, that's not the plain wording of the order. And so our position is that Pastor Stephens has been wrongfully arrested, and that AHS is engaged in a public deception.
This led to the rally on Saturday at the Remand Center.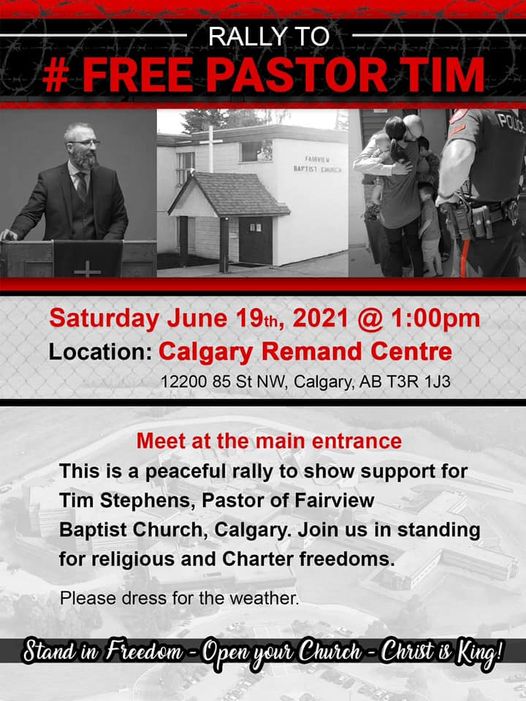 The crowd gathered to pray and sing hymns, including "It is well with my soul." Several local pastors gave brief, rousing sermons and messages condemning the government and the culture that has allowed these pastors to be imprisoned and their Charter Rights shredded in front of them.

One of the speakers was Pastor James Coates, who himself spent over a month in prison for the same offenses, and has been doing underground services in hiding ever since. His full message below, courtesy of Devin Davis.
I have seen him faithfully minister the word of God. He has been a stalwart of faithfulness to Christ, in shepherding his church, and so I just want everyone to know that I stand by Tim Stephens. He is a precious brother of mine…

The fact that pastor Stephens is in that [jail] is injustice. This county has lost its conscience. That man is in there because he cannot sign a condition, a condition that would preclude him from fulfilling his mission as a pastor and follower of Jesus Christ. And our country is silencing the conscience, it's a seared conscience that our country has.
Continue to pray for our brother in prison.