Nurses Are Wildly Exaggerating COVID-19 "Crisis" Claims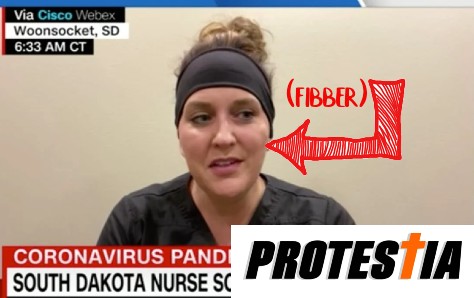 Following in the footsteps of useful victims like Bubba Wallace, Christine Blasey-Ford, and self-hate-criming legend Jussie Smollett, a new breed of useful victims has risen to the top of the heap: COVID calamity nurses. And the best of the best is South Dakota's Jodi Doering.
Fake news outlets like CNN, the Washington Post, USA Today, and Huffington Post promoted her account – that of an ER nurse in South Dakota with tales of dramatic, horrifying, COVID-induced deaths at her hospital. Claiming that patients died amidst cries of COVID denialism, she urged people to mask up or face a similar fate.
The problem was it wasn't true. To date, Huron Regional Medical Center (where the nurse works) has registered only six COVID-related deaths. Even if she treated all six of them, her stories seem a tad exaggerated (and wildly untrue).
The lazy ideologues at CNN interviewed Jodi Doering after she posted her viral tweet describing how a "culmination" of COVID patients in her care went to their graves crying, "This can't be happening, it's not real!" Yet a basic analysis of South Dakota COVID data – in particular information and accounts from her hospital – shows no corroboration of her account at all.
Turns out, Doering is a President Trump-hating, Governor Kristi Noem-bashing Democrat with a clear ax to grind, not dissimilar to the not-so-hidden motives of reporters crying foul over COVID parties and actively rooting for calamity. This woman is a lying Democrat operative who, like so many other hucksters before her, is happy to lie right to our faces for the sake of her ideology.
As of this writing, no one has been able to determine how patients who can't breathe on their own can cry out anything at all, but if we figure it out we will be sure to update this post.
See the too-good-to-be-true-for-Democrats interview below: