Vintage Discernment: Billy Graham Was Pro-Choice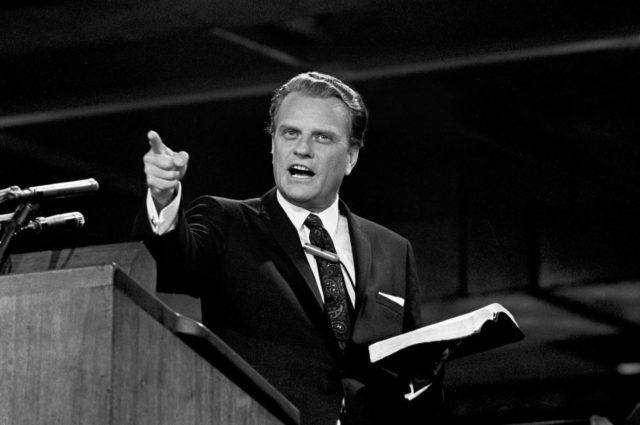 It's no secret that Billy Graham was a horrifically bad bible teacher who openly taught heresy. He denied the exclusivity of Christ and taught a form of Universalism. Those videos have made their way around the Internet for years, both here and also here.

What may not be known, however, is that he was functionally pro-choice, despite having a fairly wide body of work that speaks of the evils of abortion and the sanctity of life. One of many examples is his 2010 book Storm Warning, which is also quoted in the Billy Graham Library, where he says:
The Bible makes it clear that God seed the unborn infant not as a piece of superfluous biological tissue, but as a person created by Him for life. The psalmist said, "For you created me in my inmost being; you knit me together in my mother's womb…

When Mary, the virgin mother of Jesus, visited her cousin Elizabeth who was pregnant with John the Baptist, we are told that Elizabeth declared to Mary, "As soon as the sound of your greeting reached my ears, the baby in the my womb leaped for joy" (Luke 1:44). This is a clear indication that that infant was a person, not just a piece of tissue.

From these and other passages I cannot escape the conclusion that the unborn child is worthy of our concern and protection just as much as a newborn infant or an adult. The unfettered practice of abortion on demand is yet another grim sign of the thundering hoof beats of the rider on the pale horse in our time.
Yet While Graham was very much against abortion as birth control, or abortion on demand for the sake of convenience, he believed that as bad as it was, there should be exceptions in cases of rape and incest- in other words pro-choice. He reveals:
But, for example, I was asked the other night about abortion. And I said, Well, I think that if you're going to have abortion, free abortion as some are advocating, that why don't you wait till the baby's born and then kill it, rather than have the mother's health impaired by the abortion?

Well, this was a different thought to see. And, of course, I do believe in abortion for those who've been raped. For those who may be diseased to the point that the child will be affected, I think there are certain areas that we need some of our laws brought up to date.