Archbishop Desmond Tutu, Famed LGBTQ Ally, Dead at 90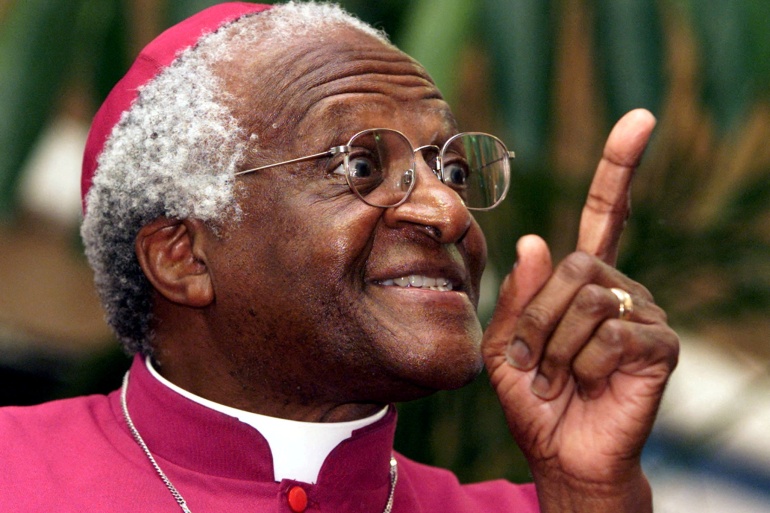 Archbishop Desmond Tutu, the Nobel Peace Prize-winning Anglican cleric has passed away at the age of 90. According to CTV News:
"His inspiring message and conscientious work for civil and human rights made him a revered leader during the struggle to end apartheid in his native South Africa, has died.

In a statement confirming his death on Sunday, South African President Cyril Ramaphosa expressed his condolences to Tutu's family and friends, calling him "a patriot without equal."

"A man of extraordinary intellect, integrity and invincibility against the forces of apartheid, he was also tender and vulnerable in his compassion for those who had suffered oppression, injustice and violence under apartheid, and oppressed and downtrodden people around the world," Ramaphosa said.

Tutu had been in ill health for years. In 2013, he underwent tests for a persistent infection, and he was admitted to hospital several times in following years.

For six decades, Tutu — known affectionately as "the Arch" — was one of the primary voices in exhorting the South African government to end apartheid, the country's official policy of racial segregation. After apartheid ended in the early '90s and the long-imprisoned Nelson Mandela became president of the country, Tutu was named chair of South Africa's Truth and Reconciliation Commission.

The Nelson Mandela foundation called Tutu's loss "immeasurable."
What is not good, however, is that the famed Anglican priest was also rabidly pro-LGBTQ. Being a ranking prelate in the Anglican community, he wielded much influence and did so in order to press for full rights and equality of Gay, Lesbian, and Transexual folk within the church, at one point commenting.
If God, as they say, is homophobic, I wouldn't worship that God.
After his daughter left her husband and two children and 'married' a woman, Tutu was supportive of her, and would later declare at the launch of the United Nations campaign for LGBT equality, the Free and Equal campaign:
"I would refuse to go to a homophobic heaven. No, I would say sorry, I mean I would much rather go to the other place (Hell) I would not worship a God who is homophobic and that is how deeply I feel about this."
In a statement of his passing, Anglian Leader and Archbishops of Canterbury Justin Welby wrote:
"He was a man of extraordinary personal courage and bravery… His vision and bravery were allied with a canny political sense and wisdom, enabling him to be a healer and apostle of peace while so many still saw wounds and war.

"It was Jesus' love we saw in his eyes, Jesus' compassion we heard in his voice, Jesus' joy we heard in his laughter, Jesus' face we saw in his face. And it was beautiful and brave. His greatest love is now realised as he meets his Lord face to face,"