Joel Osteen's Lakewood Church Resumes Service Before J.D. Greear's Does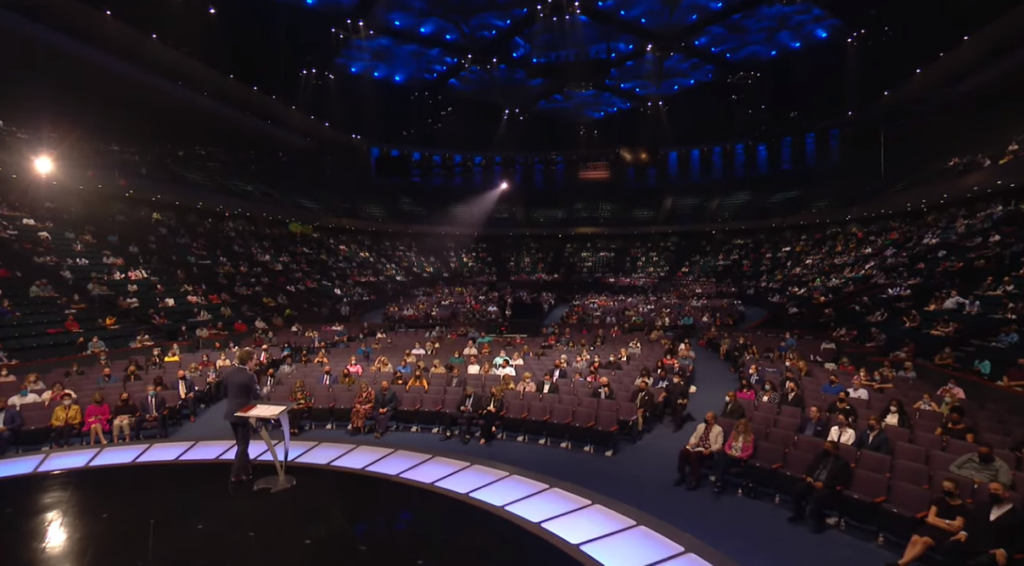 Lakewood Church, the biggest "church" in America, had their first service in nearly 8 months yesterday, opening up their doors to their congregants after going all-online in March.

The "church," which occupies a 600,000-square-foot, 16,000-seat arena, limited their capacity to 25% of normal capacity, bringing in 4000 people for each service.

Congregation members were instructed to wear masks at all times and keep two seats between all members. The church took further sanitation measures, such as installing all touchless faucets, touchless soap dispensers, and touchless flush valves in the washrooms, fitting all escalators with UVC sterilization and CleanRail antimicrobial escalator handrails, fitted the sanctuary with a new air purification system, and commited to more sanitization of high traffic areas, including cleaning all the seats between services.
Joel has kept a fairly low profile these past few months, preaching online every week, and was the last prominently seen marching in a Black Lives Matter rally in Houston over the summer and marketing his "Inspiration Cube".

As to whether or not his first sermon back is any good? As you can imagine for an arch-heretic like Osteen, it was about as good as a two-fold son of hell could muster, preaching his usual dose of gospel-less moralistic therapeutic deism, such as these deep biblical truths in the opening three minutes of yesterdays sermon:
We weren't created to go through life with problems, struggling to make it, or in mediocrity. God created us to reign. To be the victor, not the victim. He's already lined up moments of favor, where he's going to make things happen that you couldn't make happen. You didn't have the experience, but suddenly you're promoted. The medical records said you won't get well, but somehow your health turned around. Your family has struggled for years, but suddenly you come into opportunity, promotion, overflow. That's God causing you to reign.

You might have circumstances that you think will never change. It's easy to get discouraged and think 'I'll never get well. I'll never meet the right person. I'll never break this addiction. It's been too long.' It might look permanent, but God is saying it's only temporary.

You're about to reign over the addiction. Reign over the depression. The sickness looks like it's the end, but you're going to reign over that cancer. Reign over that heart trouble. Even now chains are being broken. Things that have held you back are coming down. New doors are about to be opened…things that have been reigning over you, the guilt, the loneliness, the bad breaks – there's about to be a turnaround.

It's your time to reign. It's your time to be free. It's your time to step into abundance. The scriptures say in Psalms that 'God has crowned you with favor.'