Twitter wasn't laughing on Monday when it suspended the account of popular Christian satire site The Babylon Bee for several hours, claiming they "violated our rules against platform manipulation and spam" before ultimately restoring them.
Twitter, not seemingly in on the joke, wrote that The Bee was either artificially amplifying or suppressing information, or it was engaged in behavior that manipulates that "disrupted people's experience on Twitter."
Shortly thereafter the social media slaughter, The Babylon Bee's account was reinstated, but reduced to zero followers, a far cry from the 500,000 they had accumulated.

After a few more hours, the Babylon Bee was given a 'get out of jail card', being restored to full rights and privileges.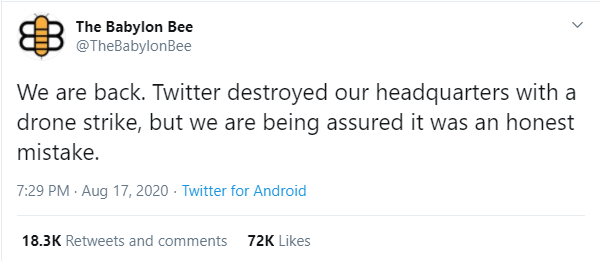 The Babylon Bee has been a favorite target of pagans with no sense of humor or perspective, such as by biased fact-checking site "Snopes" for presenting "false information" even though they are by nature a proud "satire news site," and by woke folk like Kyle J Howard, Beth Moore and Jonathan Merrit who have declared it raaaaaacist.